Welcome to the home of author Denise Frisino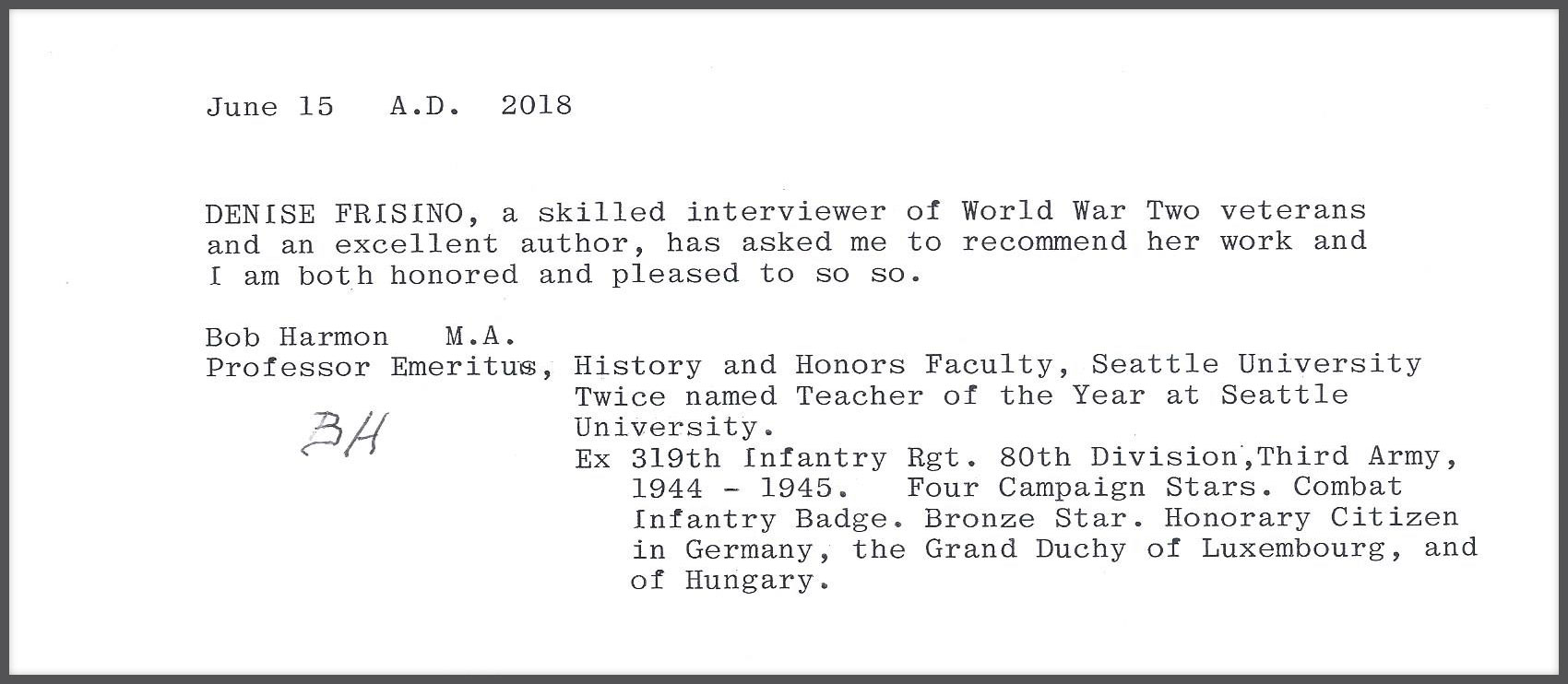 In preparation for her historical fiction novels, Denise spends years researching. In the 1980's, while writing Whiskey Cove, Denise interviewed men and women who were bootleggers. For Orchids of War, over the last several years, she has talked with men and women from the World War II era. She is continuing along this path in preparation for the sequel, Storms From A Clear Sky.

Left: Post 227 presents Denise with Certificate of Appreciation following her talk.
Center: WWII Vets Merlin Staaz & Fighter Pilot Dwight Stevens Right: Goro Kinoshita, of the 442nd.
---
Below are snippets of her research in blog and podcast forms.
---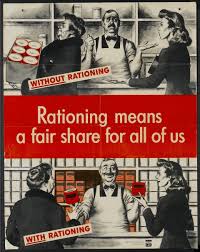 Rationing goes back centuries, especially in times of war, strife and shortage. The concept is simple and established to prevent hoarding of any items deemed necessary for survival or to overcome the source of infliction. This action is usually enforced by the government in an attempt to direct the needed supplies to those on the front lines first, then to establish a system for distribution to the masses.
In troubling times, learning to share and be responsible for limited access to certain products can be life changing. The Great Depression left a scar on many of my parents' generation as every scrap was used, saved or converted into something practicable.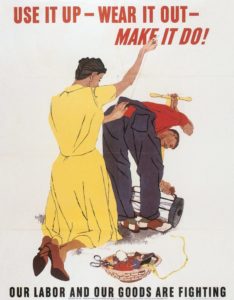 Even before the Japanese attacked the United States on December 7, 1941 at Pearl Harbor, blasting us into World War Two, rationing in Britain had been established. The British Ministry of Food issued Ration Stamps, while imploring America to consider rationing of vital aluminum, gasoline, steel, food and materials necessary for battle.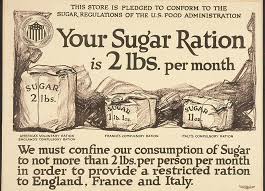 The 'Sugar Book' – War Ration Book Number 1 – arrived on the U.S. civilians' doorsteps on May 4, 1942, five months after we joined the Allies in global combat. Coffee was rationed by November 27, 1942 with households limited to one pound every five weeks. Before the end of that year nine other essential items were added to the ration coupons.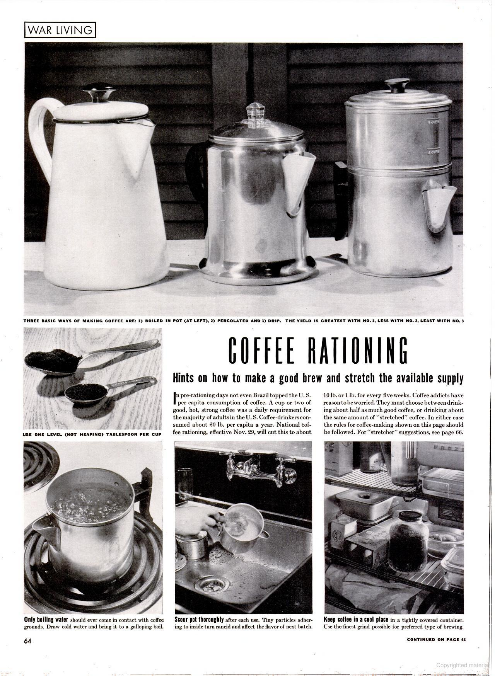 By November of 1943 the list expanded to include: gasoline, bicycles, fuel oil, firewood, stoves, rubber, typewriters, (items directly needed by the military) nylon, silk, (for Parachutes etc.) meat, flour, lard, oils, shortening, cheese, butter, margarine, plus canned, bottled or frozen processed foods, including canned milk, dried fruits, jellies, jams and fruit butters
Remembering that women of all ages wore dresses during the 1940's, only to have nylons become scarce during wartime, is a prime example of American ingenuity. The ladies got creative. They rubbed their legs with a coloring then drew lines up the back of their calves imitating the line of the nylons to give the appearance they wore stockings.
When I asked my mother about this, she pointed out how the leg coloring wore off on her white dental assistant uniform. In her early twenties, she scrubbed her uniform nightly keeping it as spotless as possible while attempting to maintain a sense of fashion.

Shoes were rationed as the materials were needed for boots to hit the ground overseas. One woman I interviewed, Barbara Bradford, told me when she was about to be married, as a gift, a family friend gave her a precious coupon to purchase new shoes. Her father became angry when she came home with sandals, not a pair of practical shoes she could wear year-round.
Gas masks were not only issued to those in battle, but also to civilians in the event of an attack. Children to grandparents wore them. The masks offered hope, survival, not shame or ridicule.

In 1966 I was lucky enough to spend a summer with a girlfriend while she visited her grandmother in Hawaii. Returning, I brought with me what I thought to be an item our family need to add to our menu. Spam.
The can didn't even make it to the shelf. My father, Second Lieutenant Joseph Frisino, having survived two years in the jungle of Burma during WWII, serving in the Signal Corps, turned beet red with anger.
"Get that out of here." He instructed me.
Shocked by his reaction to a food item, I looked to my mother for help. She just shook her head in warning. The canned good was never opened but was escorted out the back door by Dad.
Years later in my research I came to realize that during the China, Burma, India conflict, the CBI, food was airdropped into the jungle to the troops. If the Americans made it to the packages that floated on parachutes toward them–before the enemy–aside from the K-Rations, they found Spam. Their diet consisted on what could be scavenged or the limited availability of canned foods.
Gas rationing happened again here in the United States as a result of the 1973 Oil Crisis. Depending on your license plate ending in an odd or even number determined which day you could go and sit in a long line at the gas station in the hopes the pump did not run dry before you put some in your tank. Even then, nurses and doctors were given priority so they could make it to their demanding jobs. At that time, I was living in Los Angeles and would trade cars with my cousin, a nurse, so I could sit in line to fill her car for her.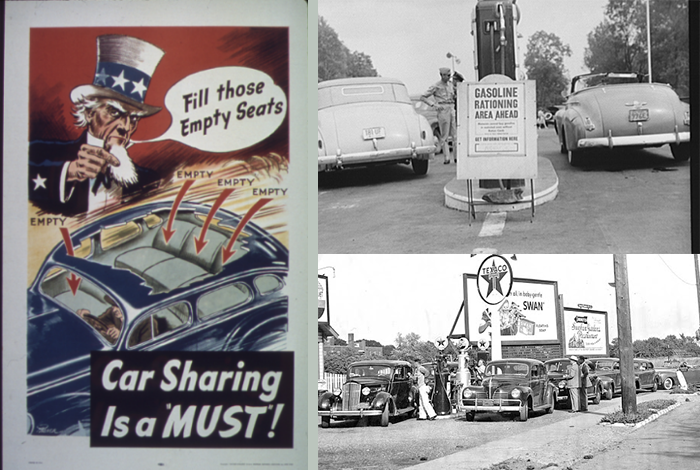 In WW2 the rationing lasted from 1941-1946 when the men and women from all services became the main focus as they fought for our freedom and our future.
During the 1973 Crisis, a time of shortage and rationing, American Know-How jumped into action to prevent hoarding to be certain gas was made available rationally, not emotionally.
Today the front line has shifted. Those in the trenches are the care givers, nurses, doctors, ambulance drivers, police firefighter and now some of our military who lead in the battle for lives against the Coronavirus, COVID-19.
Yes, we are in this together. However, sheltering in place, curfews, wearing masks and rationing are not new concepts but proven safeguards.
Following these simple rules issued for this drastic time is essential to regaining our health so we can gather when the bans are lifted and for the regrowth of our economy.
The 'America Way' still exists. There are countless reminders of those reaching across aisles, fences and diversities to help. In fact, it has become stronger of late, prominent in every action of those who listen to the Public Health officials and Governors, such as mine, Jay Inslee, who are acting to halt the unseen and unforgiving threat of this virus.
Thank you to all of those throughout our great country who wear the new uniform of the soldier, unrecognizable with faces shielded, who fight night and day to save lives. You are our heroes.
Stay safe, Stay inside, Share.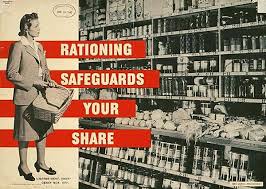 The very few living survivors of the 'First Wave' at D-Day all concur on one thing—tragic mistakes were made that morning of June 6, 1944, costing thousands of Allied lives.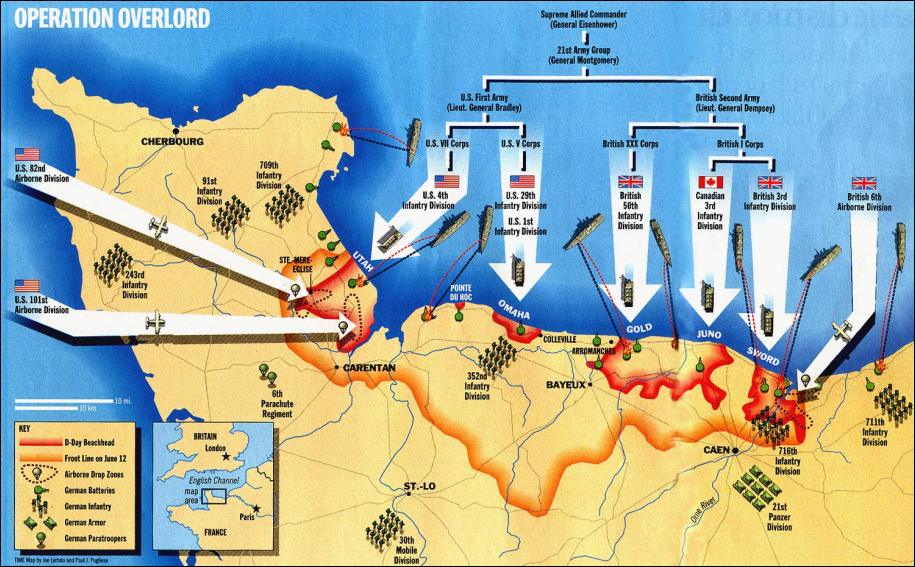 For starters, the landing parties headed ashore later in the day than planned. They missed the opportunity of the lowest tide and the deeper water would claim hundreds of young lives.
For many, this was their first battle, fresh from their training grounds these soldiers were to attack the battle hardened, dug in enemy. The Germans had prepared the beach with land mines, barbered wire, barricades and a strip of heavy wire that ran across the surf impacting the landing crafts.
Just before the troops were sent ashore, Allied planes flew low across the beach laying down a protective smoke screen. However, this screen worked in reverse for many of the landing parties creating confusion as they could not tell where they were heading. Eventually, when the winds lifted the film, the Germans sitting above on Omaha Beach in their pill boxes made light work of the wet, anxious soldiers below them.
'Artillery Joe' Mehelich, Private First Class, was a young man among the brave soldiers that survived the 'First Wave.' Previously, Joe had arrived in Africa to fight with the 2nd Armored Division at age seventeen, months before the attack on Pearl Harbor. At one point, Joe was hit and forced to pour sand over his body to extinguish the leaping flames spreading up his arms and over his boots. While severely burned and unable to wear shoes, he got 'right back in the tank' and kept fighting on. In fact, 'Artillery Joe', the nickname given to him by his troop, would go on to fight in all five major battles.
After his company helped secure Sicily, 'Artillery Joe' was sent to England for the major assault of D Day. He and a fellow soldier from his company were placed in a DUKW, 'Duck', for the landing on Omaha Beach along with about 38 green 'kids'. The two experienced warriors were there to provide calm for the novice soldiers unaccustomed to battle, to the deafening blast from the enemy's heavy armor on the cliffs above attempting to sink their transport, and the unnerving number of injured and dying men washing ashore along the sand and surf.
The result was horrific. Frightened, praying, calling for their mothers, the youth rushed over the sides, some carrying their duffel bags, into the chilling deep water only to be pulled under the rough sea by the weight of their supplies needed to defend themselves.
Joe tried to stop them, but their fear and duty to America stripped them of reason.
Only Joe, his friend from his original company and one of the boys from the boat made it to shore. As the three determined which way to head in the dense haze, it began to lift, and they came under attack from a barrage of gunfire from the Germans waiting above in their pill boxes. Miraculously, all lived to fight another day.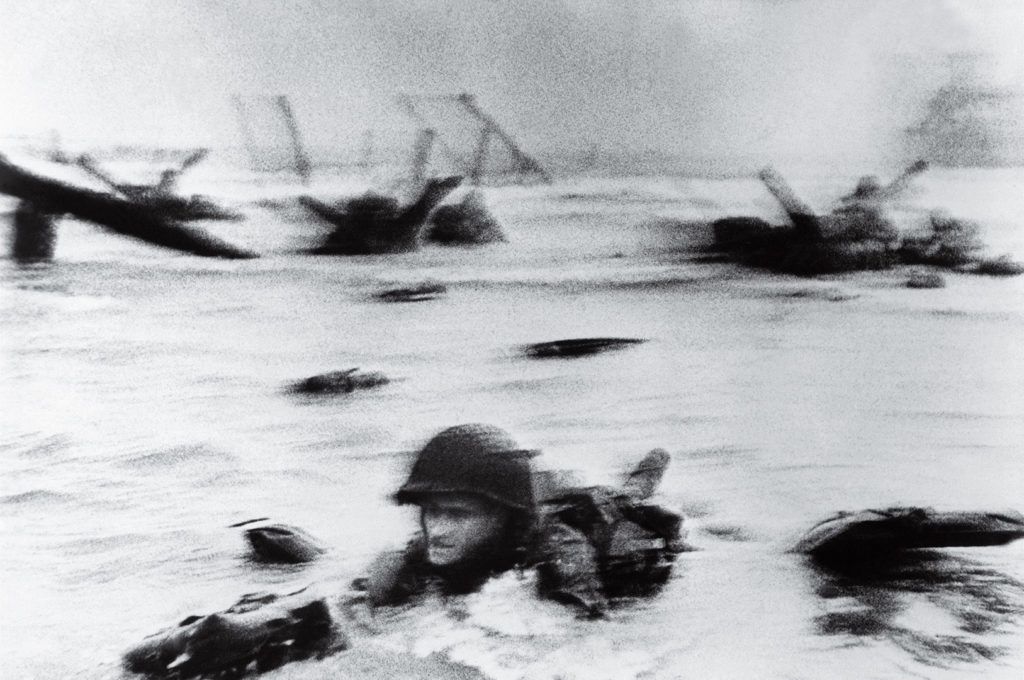 In the midst of D Day, a young John Joachims fearlessly drove his tank into battle at Normandy. He was eighteen. He would often retell of the horror spread around him on the beach, such a place of beauty transformed to a graveyard of overwhelming magnitude.
The special regiment, the 320th Anti-Aircraft Barrage Balloon Battalion, were trained to handle the large hydrogen filled barrage balloons that floated at about 200 feet, to protect the soldiers and tanks coming ashore. They were the first African American unit to land on D Day and the only balloon unit in France. Although Waverly B. Woodson Jr., an injured medic, was nominated for a Medal of Honor, he never received the medal.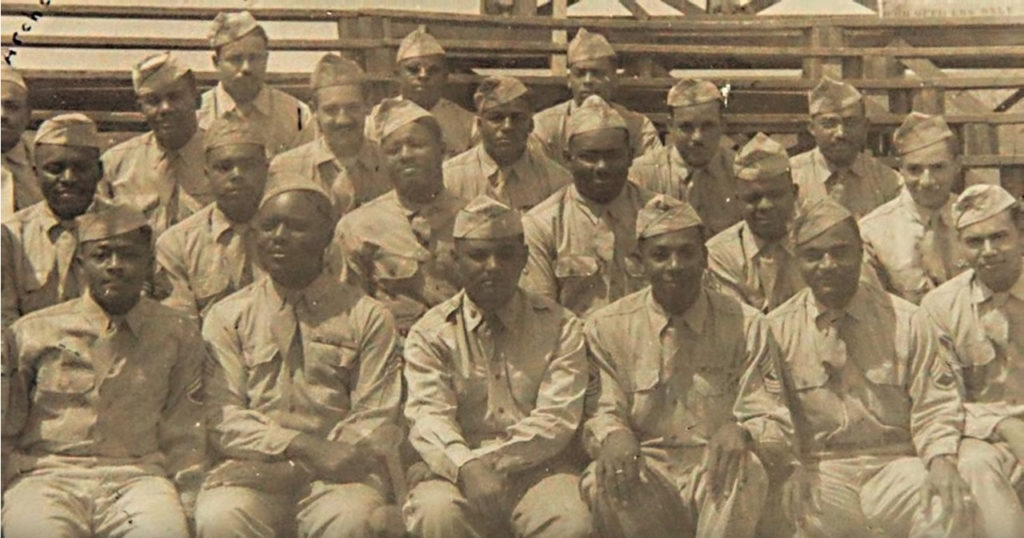 The first twenty-four hours of 'Operation Overlord' claimed thousands of lives. Those lost souls were not only Americans, but also our Allies, the Canadians, the British, and the French. One report claims, between June 6th, 1944 to July 1st of that year the United States casualties totaled 22,119. Missing, possibly some of the young boys swept out to sea, tallied 5,665 American soldiers. A startling 2,811 were killed with 13,564 reported wounded. Of the 79 taken prisoner, their eventual fate is not listed. Many of the dead never fired their guns.
The drudgery of 'Operation Overlord' would last until August 25, 1944. Bob Harman, made it ashore in early August, as the troops were breaking out of Normandy on their way east. Far from being a secured safe zone, Bob remembers the first person he witnessed being shot by a sniper. The German sharpshooter had killed a Medic. Bob instantly understood the brutality of the enemy. The Germans wanted to eliminate anyone who could bring aide to an injured soldier or the dying. To this day, Bob honors the fallen Medic by displaying his blood-stained white arm band with the red cross in a beautiful glass case. Bob carried the Medic's arm band through many clashes, including the Battle of the Bulge, as a reminder that survival in war is rudimentary: kill or be killed.

If you have not stood on the cliffs above the designated area called Omaha Beach, where the most difficult landing occurred, or walked the sands of Normandy, be sure to do so. The wind-swept surf carries a hint of the souls lost in this devastating conflict. You will be moved beyond imaging.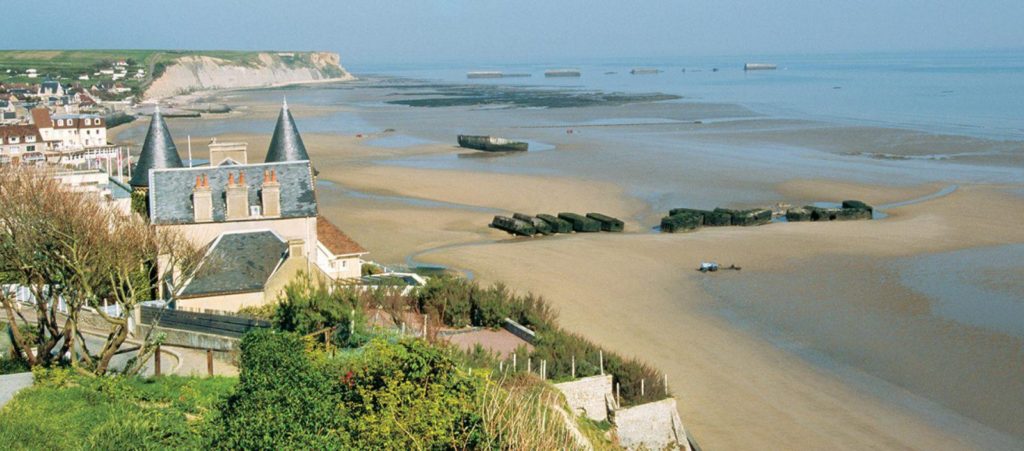 On this 75th Anniversary of D Day remember those who gave their all to defend our country and freedom.
Remember that during World War II, on June 6, 1944, this victory for our freedom came at the most precious price–
brave young lives.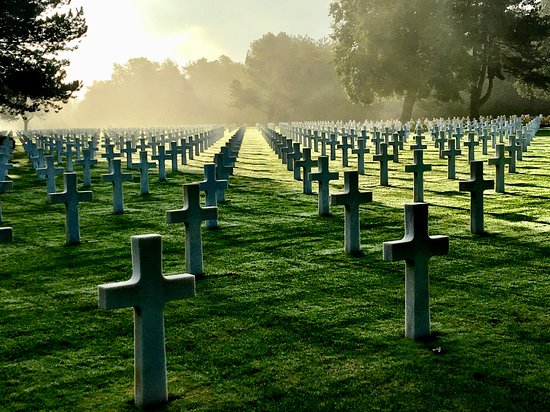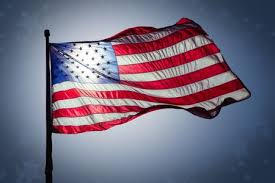 While the debate on when and where the first Decoration Day/Memorial Day was held in America still rages, one fact remains–the day set aside to honor and remember those fallen in battle, those who bravely fought for our freedom, was originally the concept of women.
The custom of decorating the graves of soldiers harkens back to the Ancient Greeks. This Attic Vase Painting, from the Classic Period dating back to 440 B.C., depicts two women approaching a grave stele or monument that has been draped with two wreaths.

The tradition of putting wreaths and flowers on soldiers graves became rooted in America, unfortunately, as the result of war on our own land. The Civil War erupted in 1861. On June 3rd of that year, in Warrenton, Virginia, the first grave of a fallen Civil War soldier was decorated to honor and remember the loss due to combat. (more…)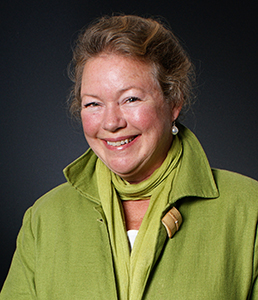 There is more treasure in books than in all the pirate's loot on Treasure Island. ~ Walt Disney
Books by Denise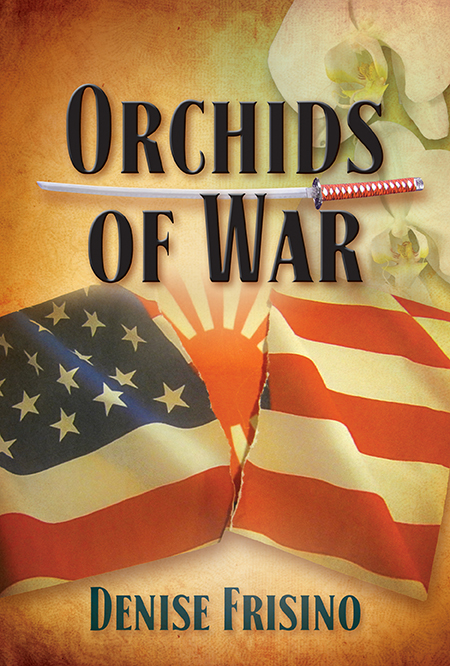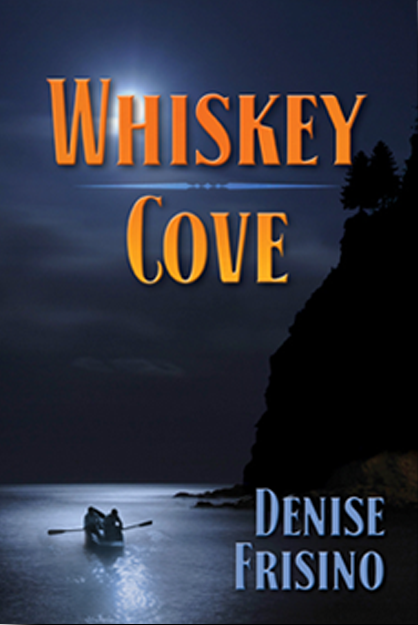 Awards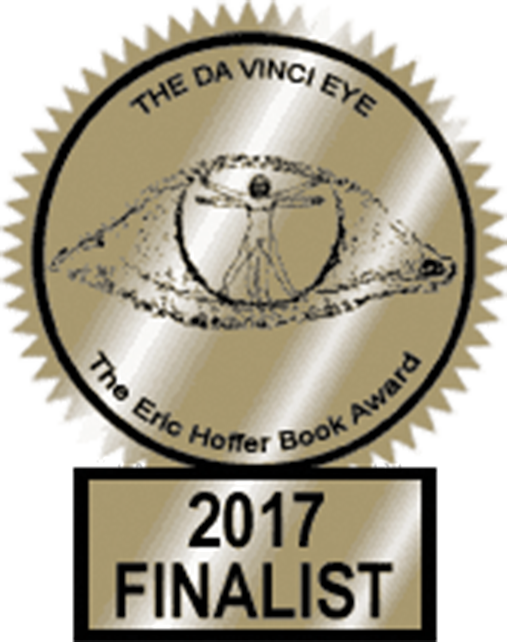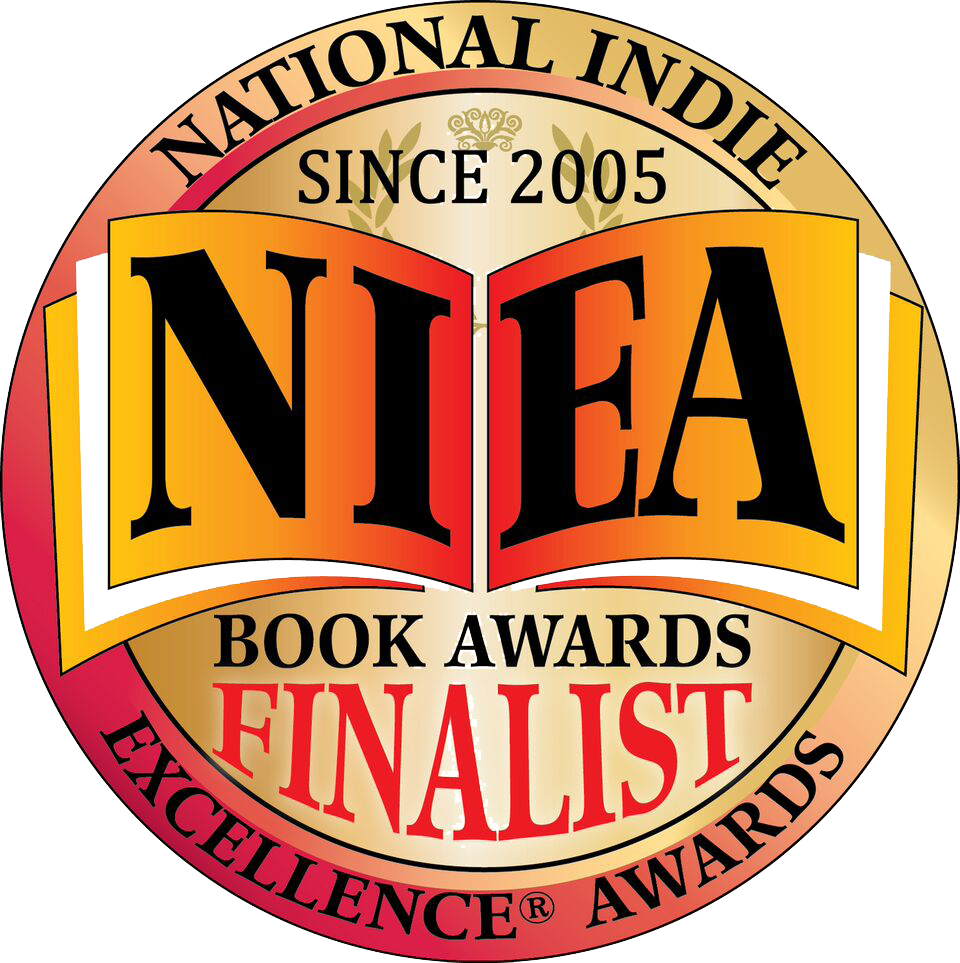 Follow Denise
Brief Bits of History Podcasts
Visit the achives to read more
Since 2012, Denise has been interviewing men and woman from the WWII era. This is a sampling of the people she has had the honor to meet.
---
Listen to Denise discuss Orchids of War onAmerika Now talk radio – here.
---